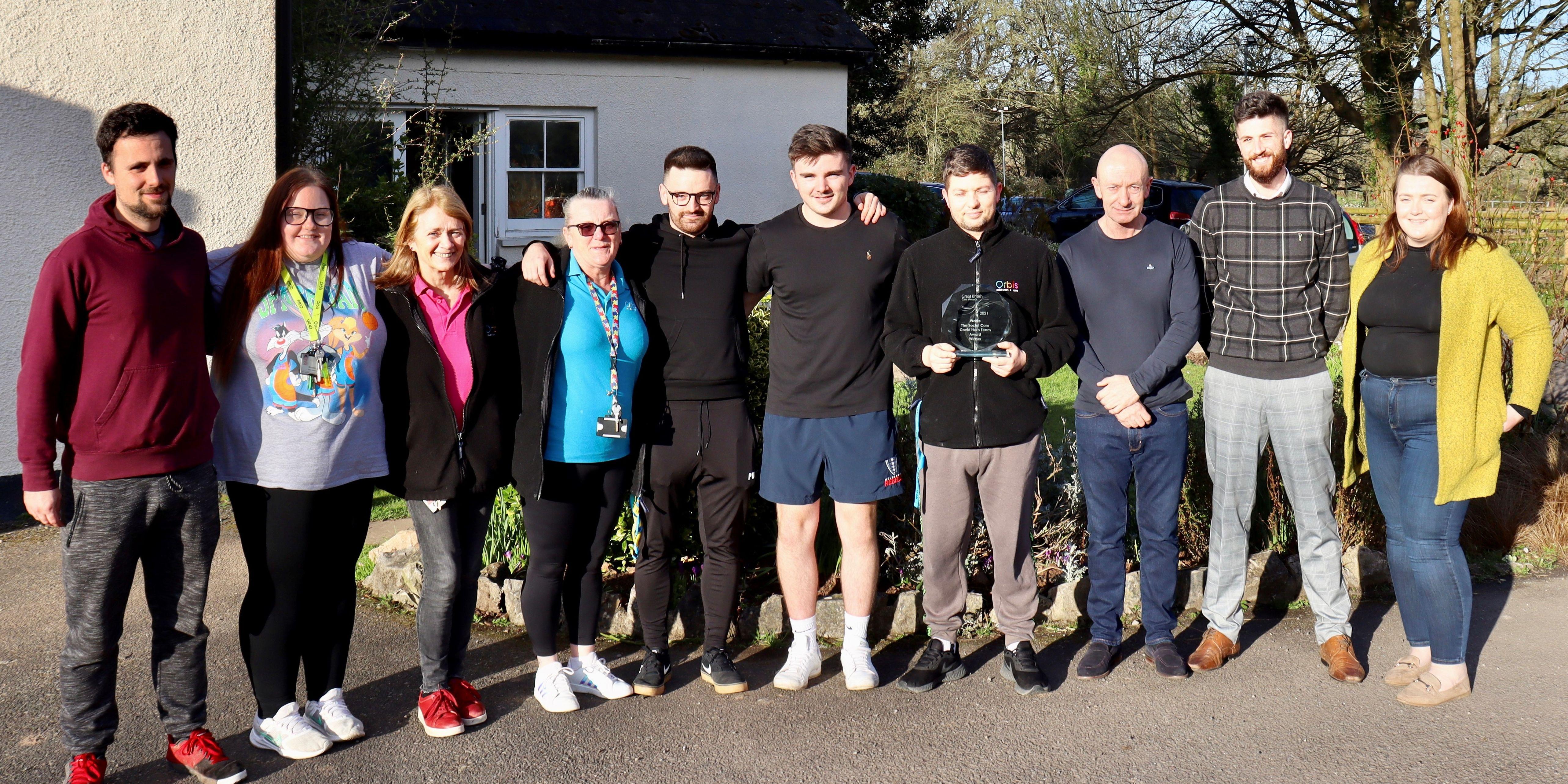 2nd March 2022
Pembrokeshire colleagues named 'Covid Hero Team' in national care awards
Staff at Bangeston Hall in Pembroke Dock have been hailed for their pandemic response as winners at the Great British Care Awards regional final for Wales.
A group of Pembrokeshire colleagues has been hailed a 'Covid Hero Team' after claiming the title in a national care sector awards scheme.
Co-workers at Bangeston Hall in Pembroke Dock, which provides care for adults with autism, took the title at the Welsh regional finals of the Great British Care Awards and will now represent Wales in the same category at the UK finals this Spring.
Staff at Bangeston Hall, which is run by Orbis Education and Care, were rewarded by judges for being 'joined as one in the common and intended purpose' of providing quality, meaningful activities to maintain a good and valued quality of life every day throughout the pandemic.
Jemma Erasmus, manager at Bangeston Hall, said the team were conscious of their community presence, so they created their own special tribute to the county's key workers by positioning rainbows at the entrance to the site, among other things.

"My team has gone above and beyond to assist the people we support throughout the pandemic, coming up with innovative ideas for activities and ensuring that the home has remained safe and run as smoothly as possible within that time. They have had to be particularly imaginative and creative in their approaches to care and learning which has resulted in amazing and significant success. The people we support are happy. They enjoy their days and have not been anxious as a result of restrictions and alterations to their very important routines and structures. I am immensely proud of them and absolutely delighted that the dedication and compassion they have shown throughout the pandemic has been recognised in this way. They are all winners in my eyes,"

Jemma Erasmus

Home Manager, Bangeston Hall
Orbis runs 17 schools, residential homes and day facilities for children and adults with complex needs associated with autism and is one of the UK's leading specialist providers, claiming three wins overall at the Wales regional finals of the Great British Care Awards.
Support Worker Tristan Harris was also awarded the 'Dignity in Care Award' for his work at Dan y Coed in Swansea, and Head of Academy Living Kris Davies received the 'Care Frontline Leader Award' at the Welsh regional finals. All three will now go on to represent Wales in their respective categories at the UK finals in Birmingham this March.
"We are immensely proud of all our nominees and winners at this year's Great British Care Awards all-Wales final, and of all our colleagues generally here at Orbis Education and Care. In the past two years, we have experienced some of the most challenging times the care sector has ever seen, so to have their dedication and passion recognised on a wider scale really is more poignant than ever as we begin to look at life beyond the pandemic. Our team at Bangeston Hall have shown great creativity and tenacity in ensuring the people they support have continued to live their best lives throughout the pandemic It is extremely gratifying to see one of our teams walk away with the 'Covid Hero Team Award',"

Suzanne Lawrence

Chief Executive Officer