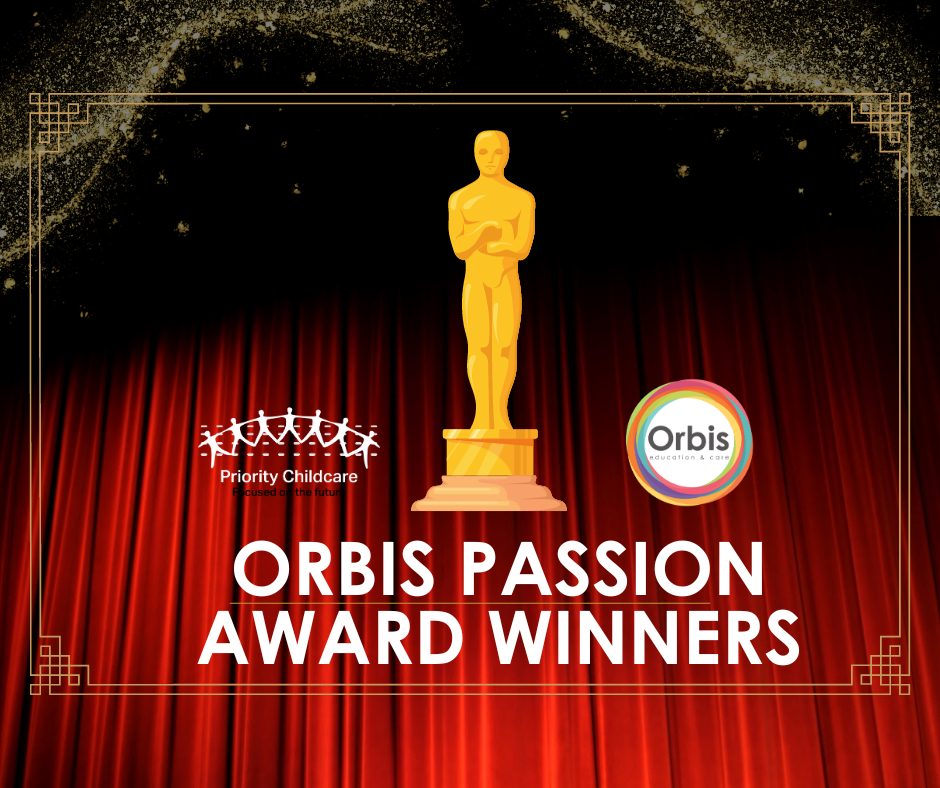 21st October 2023
Passion Award Winners Announcement!
Congratulations to our PASSION Award winners! We celebrate your achievements and recognise the outstanding work you do for both Orbis Education & Care and Priority Childcare. The award winners for each category are as follows:
Support Worker of the Year Award: Angela De Beer from Ty George
Throughout her time within the Ty George team, Angela has been driven to provide the best care for the individuals she supports. Her knowledge of the role and openness to share best practices with colleagues make her a very worthy winner of the Support Worker of the Year Award!
Teacher of the Year Award: Richard Ewington from Tŷ Coryton
Richard has been a long-serving member of the Orbis team and has always been a source of stability, consistency and warmth for our pupils. He encourages pupils to be their best and will always think outside the box to find solutions to any problem. Richard embraces diversity and has created a community within the Falcon classroom where the children feel respected and understood.
Central Services Manager of the Year Award: Head of Clinical Services, Lisa Cowles
Lisa is a fantastic and well-respected manager who will go out of her way to support her clinical team to deliver effective support to homes and schools across Orbis and Priority. There is never a problem Lisa can't fix. She is a role model to all and has led her team into an exciting new chapter in 2023.
Learning Support Assistant: Daniel Hammett from Tŷ Coryton School
Daniel has shown tremendous commitment throughout the year to engaging the pupils he supports and demonstrates creative ways to encourage them to learn. He inspires them to be confident and independent and is always by their side to provide first-class support when needed.
Home Manager of the Year Award: The Old Vicarage Home Manager, Vicky Bailey
Vicky has played a vital role in supporting services during difficult times. She serves as a positive role model who always leads by example. She goes out of her way to support staff and has built trusting relationships with residents. Her ability to remain strong and lead during difficult times is exceptional.
Central Services Employee of the Year Award: Multi-Skilled Carpenter Dean Harper
Adored by pupils and staff, Dean is well known in homes and schools across Orbis. His priority on every shift is to ensure a safe learning environment for every pupil, and he will always invite individuals to help him with smaller tasks to encourage new skill development. It doesn't matter how busy his day is, Dean always finds time to chat with our supported individuals and will consistently go out of his way to make their day!
Rising Star Award: Rosendale Support Worker Tia Phillips
Tia started at Rosendale as an agency worker, and from day one, she was eager to learn and help in every way possible. She quickly took on additional training and demonstrated great resilience and commitment to her role. Since becoming a permanent member of the team, she has excelled in the role and has quickly become recognised as a vital member of the team.
Chairman Award Winners, 15+ years of Service:
Jo-Ann Magee - Quality Support Manager
Sarah Russel - Head of Education
Dean Osbourne - General Maintenance Operative
Richard Grainger - Home Manager
Christopher Moss - Support Worker
Gareth Lloyd - Support Worker
James Driscoll - Support Worker
Congratulations to you all! We thank you for your hard work and dedication.